This nightshirt used to be a pair of pajamas. Repeated washings have caused them to shrink, but instead of getting smaller all over, they got shorter and wider. I tried to convince my daughter they were ready for the donate pile, but the "doggie pajamas are her most favorite." She asked me if I could turn them into a nightshirt like her Mickey pajamas.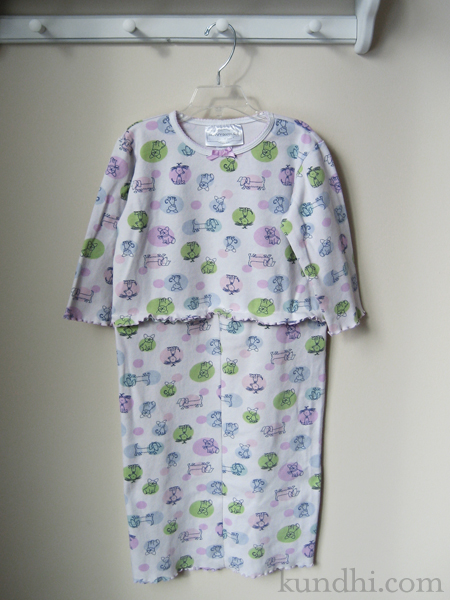 Since they were so wide, all I had to do was remove the elastic waistband, sew the pant legs into a tube, and attach them to the shirt. I added a rolled hem to the raw edge of the waist to match the shirt for a little more ruffle action: pink hem original, green hem mine.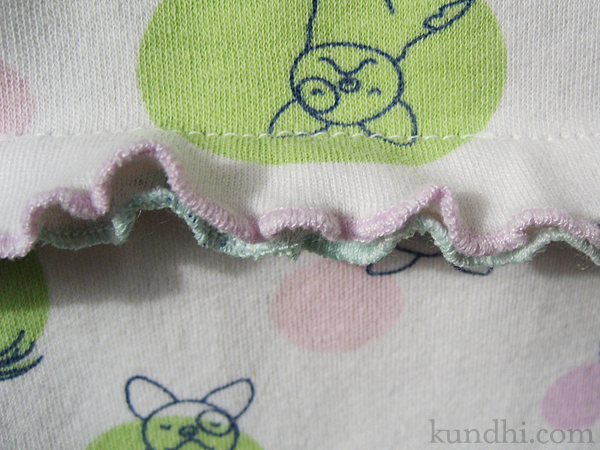 technical note: I had a serious problem with skipping stitches on this project, no matter what my tension, regular or ball point needle, even different thread. When I switched to a muslin scrap the stitches were fine. I figured it must be the fabric so I tried putting a piece of paper tissue under the presser foot. It worked like a charm and the tissue tore away easily. I'm not sure where I first read this idea, but I'm glad I remembered it!
wardrobe refashion: I don't think the life of these pajamas really need to be extended much longer. We've had them awhile and they are well loved. I'm curious how long they'll last in their new form.