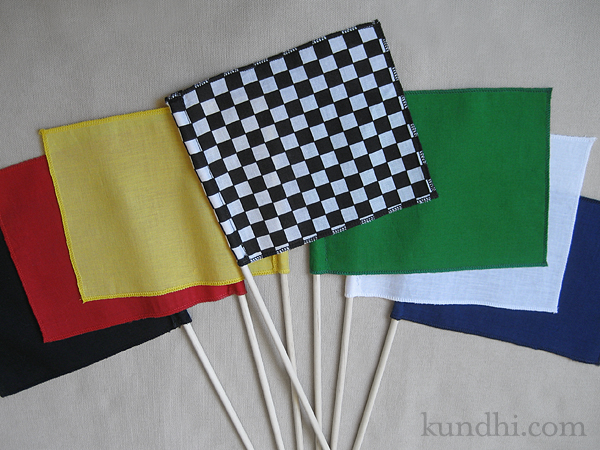 My daughter didn't ask for many things this Christmas. I wasn't surprised a race track was one of the few items on her list, but I wasn't expecting a request for a set of racing flags. I figured they'd be easy to make, but they couldn't look homemade. They were coming from Santa, after all. These would make great gifts for the little racing fans in your life — girls and boys alike.
You'll need a serger for this project. I suggest making a few sets at once. The project itself is super easy, but changing the serger thread is a bit time consuming. It's definitely not a last minute Christmas Eve project, ahem.
Materials
5″ x 7″ rectangles of various colored fabric (flag definitions here)
3/8″ x 12″ wood dowels
matching thread, three spools each
fray check
Notes
Thread: Those big grab bags of half-used spools of thread at the thrift store are perfect for these. You'll need a lot of spools, but not a lot of thread.
Changing serger thread: I don't re-thread my serger every time I change thread. Simply snip the original thread close to the spool and tie on a new spool. Then lift your presser foot to release the tensions and pull the threads through. Try not to run the knots through your tension wheels and be careful with the knot at the needle's eye. You may have to re-thread the needle. Once new threads are through, drop your presser foot and start serging!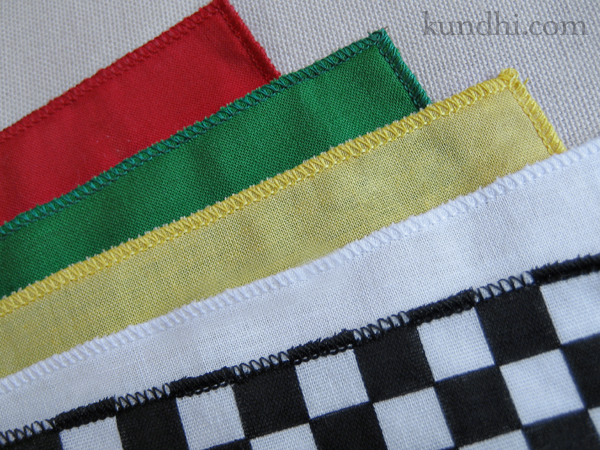 Step 1
Serge all four sides of each rectangle with a rolled hem.
Step 2
Fold one shorter side over 1/2″ and press. Sew the top and side closed, stitching close to the rolled hem. Leave an opening at the bottom for the dowel.
Step 3
Trim ends. Secure the serged ends with Fray Check. Slide flag onto dowel.
storage: A drawstring bag made with the checkered flag fabric would be so cute for these! A mailing tube from the office supply store also works.
confession: I bought new, same brand fat quarters of fabric for this project. It almost killed me to do so, but my daughter is really enjoying the idea of Santa this year, so I caved. Normally I would have raided my fabric stash of scraps for this project. Next time for sure!