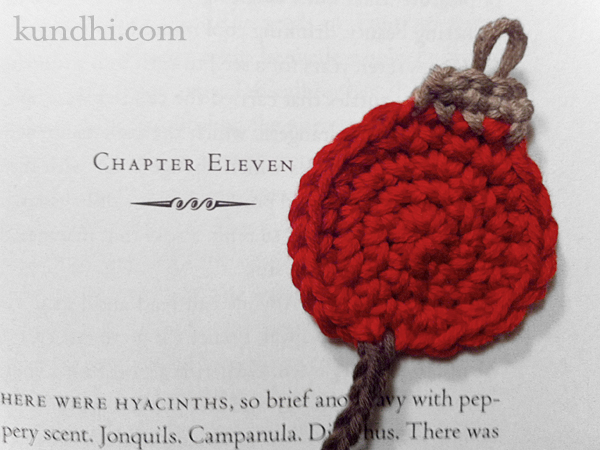 I'm sorry my pictures aren't the greatest for this post. The sun went down too early today. I can't wait for the winter solstice. I just can't get my photo-taking act together before dinnertime. I might try and retake the photos over the weekend.
This is the same pattern I used for the tiny baseball bookmarks, without the little top of course. If you want to do baseballs, I recommend marking the curves with a disappearing ink pen before embroidering the red stitches. It really helps!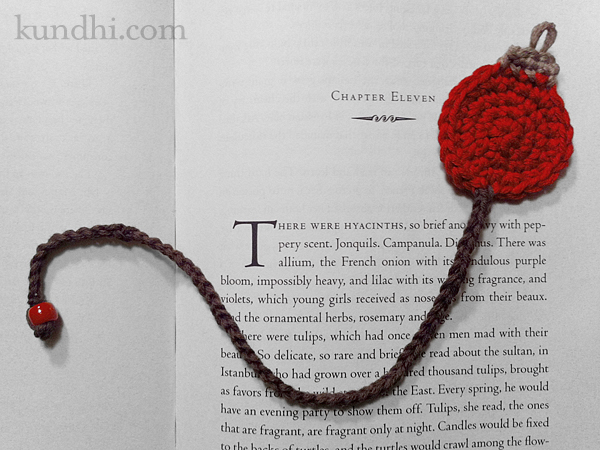 Tiny Crochet Ornament Bookmark Pattern
worsted weight yarn (I used Brown Sheep Cotton Fleece)
size F/5 (3.75mm) and D/3 (3.25mm) crochet hooks
tapestry needle for weaving ends
small bead
sl st: slip stitch
sc: single crochet
inc: 2 sc in one stitch
gauge: not important, but mine is about 1 1/2 inches wide
ornament
With larger hook, make a magic ring.
R1: 6 sc into ring
Ornament worked as a spiral. Place marker to keep track of rounds.
R2: inc in each stitch around
R3: *inc, sc* around
R4: *2 sc, inc* around until last two stitches. Sl st in last two stitches.
R5: sc in first stitch, change to smaller hook, chain 55, add bead, chain 5
Finishing: cut yarn, tie knot, thread end back through bead, tie double knot, trim close to knot.
ornament top
R1: pick up stitches at top of ornament as follows: pick up and chain 1, *pick up and sc* three times, turn work
R2: chain 1, sc 3
Finishing: cut yarn, add a little loop between middle two stitches while weaving in ends
These work up really fast and add a nice handmade touch to book gifts this holiday season. I've got a lot of books on my list for Santa — better make a few more just for myself. Enjoy!
stash: These only take a tiny bit of yarn. You can definitely go stash diving for this project!