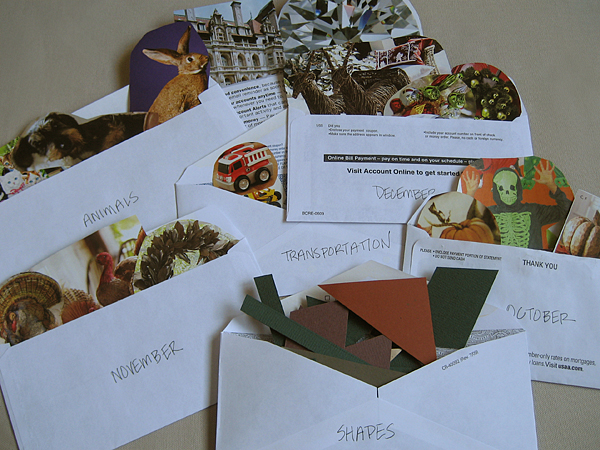 Wow. This time last year I was doing the same exact thing: cutting out pictures for my daughter to paste on paper. It must be the official start of the holiday direct mail season.
Last year we put all of the shapes together in a single envelope, which created a lot of mess. She'd dump all of them out just to find one or two that she wanted. This year we are sorting them by category to make it a little easier.
Now that she's using scissors, this is even more fun for her. Of course, we've created a whole different mess of scraps on the floor, but who cares. It keeps her busy and she enjoys it. I just need to remind her that we only cut paper and not hair!
envelopes: My daughter loves writing little notes and was cruising through my stash of envelopes. I started saving the ones that come with all of our junk mail. She's got a nice supply now and that's what we used to sort her cutouts.
catalogs: Did you know you can cut down the amount of paper that gets delivered to your mailbox? I've had good luck with Catalog Choice. Only problem is when you order something new, you get put on the mailing list again. At least we're putting the catalogs to good use!