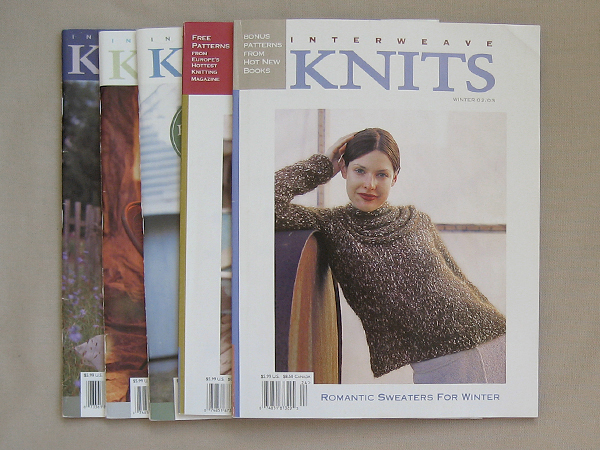 I found one more thing of interest at the textile sale: a bag of Interweave Knits magazines for only 25 cents each. They are various issues from 2001-2003. Some had a few patterns that had been cut out, but for a quarter each, I figured they'd be great just for inspiration.
Well, I found quite a few things that I liked, actually. As I was cutting them out, I marveled at just how many patterns were left. Did the magazine publish more per issue back then? I could not bring myself to put these in the recycle bin. Now, granted, some of the pullovers are a bit oversized, but a lot are classic enough to be made and worn today. Here are some of the pattern highlights:
a lot of women's pullovers (I even left a few cardigan patterns)
nearly all of the men's sweaters (I'm pretty sure they are all there)
*Grand plan patterns include every possible measurement imaginable for a completely custom fit.
How to enter: Just leave a comment and tell me about your current projects. You can leave a second comment for a bonus entry if you head on over and "like" me on my Facebook page.
Giveaway open until Thursday, September 2, midnight, central time. I'll announce the winner next Friday.
Open to U.S. readers only. Sorry, international friends, but these weigh a lot!