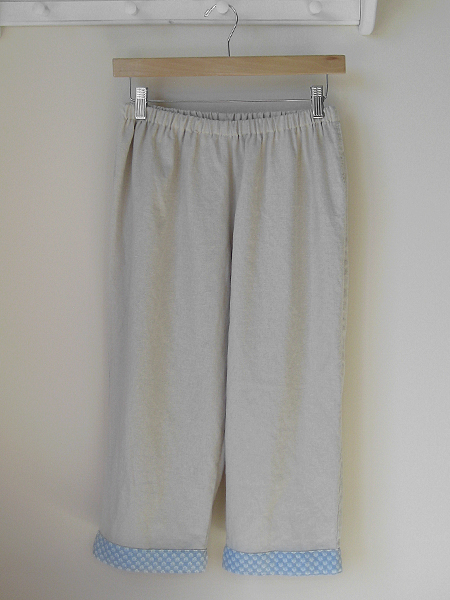 The summer of skirts has been a success. I've been wearing my red, white, linen and denim skirts regularly all season. But ever since I found that perfect pattern for lounge pants, I've been thinking about capris. How easy would it be to refashion a pair of existing pants?
I found a couple pairs at the last 99 cent sale (hey, I told you I had good luck that day!) and decided give it a try. Here's how I did it:
Wash and dried them on hot to preshrink.
Removed the elastic waistband with a seam ripper.
Cut the inner leg seams open. My pattern is only one piece, so I left the outer leg seams intact.
Pressed the pants pieces with an iron and laid my pattern on top. I had to fudge a little, but they were pretty close.
There was a lot of waist fabric that had to be removed and the new waist ran right over the pockets. I sewed them shut and cut them out.
Traced the pattern and sewed the pants back together.
Cut off the ugly fringe cuff and added a fabric trim.
The whole process was fast and easy. Most of my shirts come down past the waistband, so they actually look pretty good. I'm sorry I forgot to take a before picture. I had a few free hours for this project and just dove in!
refashion: This pants thing is really increasing my options for clothes. After a few more tries, I might tackle a fitted waist!