I could have posted this last Thursday, when I actually found it, but that would have ruined my Father's Day surprise. There are very few surprises around our house where gifts are concerned, so here it is a week late.
A few weeks ago my husband was looking for some shoe polish and I told him to check the pink wicker basket in the linen closet. Yeah, I know. A pink wicker basket doesn't seem appropriate for black, brown and cordovan polish, wooden brushes and buffing rags. Then last week, while I was wandering around a church sale not really looking for anything in particular I saw this: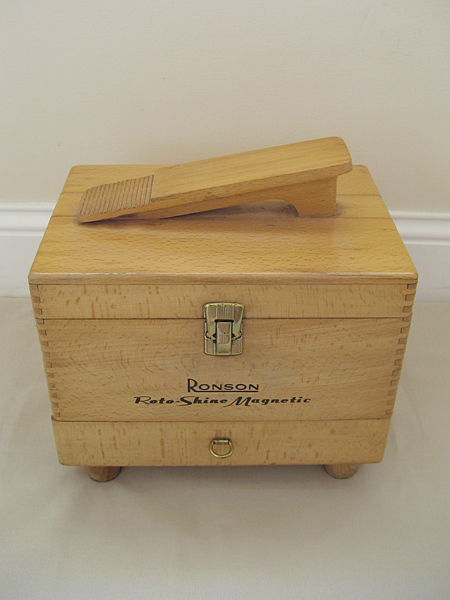 Now that's proper shoe supply storage! I checked it over briefly. It looked ok from the outside. The inside appeared to be filled with old polish tins. I figured I'd throw them out and clean it up later. When I got home and had a closer look, guess what I found!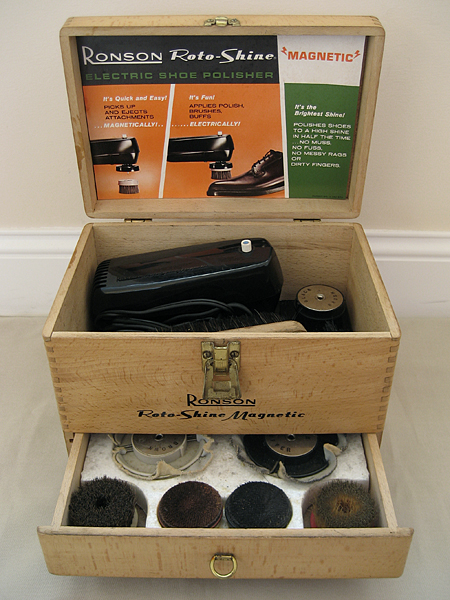 Not only was everything there, but it worked! I was pretty excited. I think for once I actually surprised my husband and he seems to really like it. Now the question is: how well does it work?
church sales: This year church sales have been mostly a bust for me. Usually they are filled with garage sale leftovers. I don't know if people are holding on to things longer or they are selling more at their sales. I still go to them because they're inside and it's much easier to keep an eye on my daughter while I look around. Plus, there's always such a wide assortment of things that get donated. You never know what you'll find!