My parents are visiting this week. Usually when they are here I try to tackle a big project. The last one was a major destash and cleanup. Since then I went on a little spring cleaning binge. There isn't a lot house-related stuff I need to do while my daughter has two super-fun playmates. I'm looking at some small, crafty projects instead.
Refashion some clothes. I'm planning to take up the hem on my linen skirts a little — they're just a wee bit too long. I also want to work on this shirt. I love the print and fabric, but I'm not so sure about that collar and those scrunched up sleeves.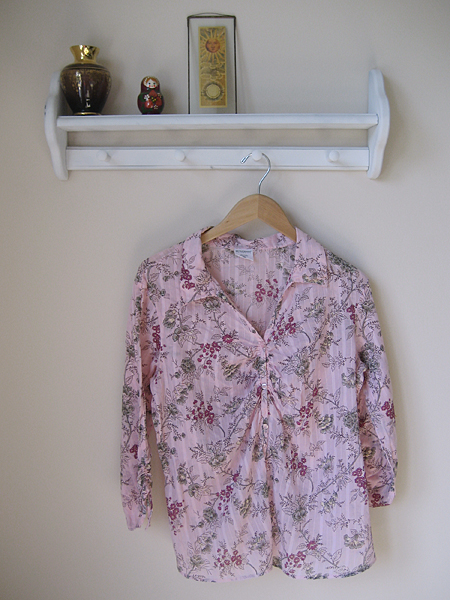 List some items on etsy. I've got a few cute upcycled projects that aren't going to get sold if they aren't in my store!
Start a sock. It's been too long since I have knit a pair of socks. Maybe since the 2008 Summer of Socks? Yikes! (Notice the "start" part. Some day in the future you might see a "finish" goal, but for now I'll be happy just to cast on.)
Not a big list. I should be able to get these accomplished, right?