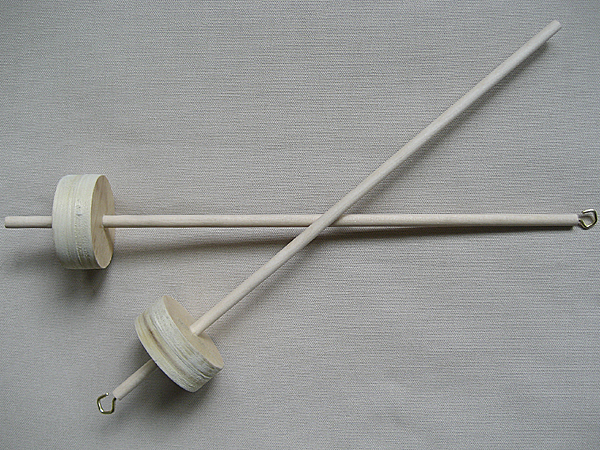 First off: No, I am not starting another hobby! I've been thinking of plying some of my lighter weight sweater yarn to make a worsted weight. I looked at a few drop spindles online, but it seemed like such a silly thing to spend money on when I didn't even know if it would work.
I thought maybe I could make a DIY spindle to try it out and if I had good luck, maybe I'd buy one. On Saturday, I asked my husband if he would pick up a wooden door pull for me. I already had some dowels and hooks. When I showed him what I was planning to do he said, "Give me a few minutes," and headed to the garage.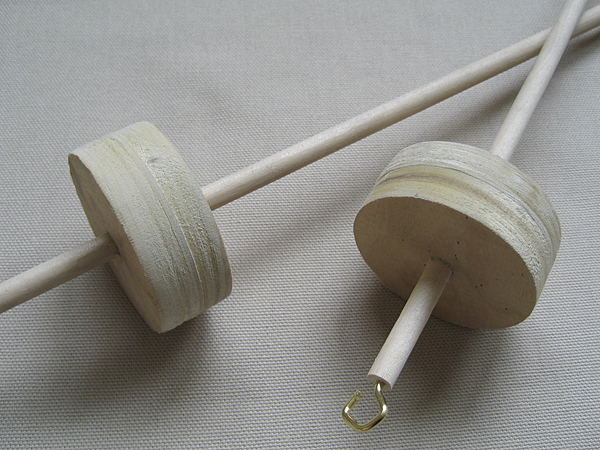 Within 15 minutes I had two drop spindles — a top and a bottom whorl. He used a drill hole saw, which worked perfectly. Aren't crafty husbands great? (I doubt he'd consider himself crafty, but I think he is!)
I played around with them a little bit over the weekend and I think plying the sweater yarn might actually work! I hope to do another post soon with examples.
project details: The inspiration for these came from the one Abby Franquemont uses in her Drop Spindle Basics video.
Here are the specs: My husband used a 2 1/8 inch hole saw with a 3/8 inch mandrel. That gave him a 2 inch circle that fit my 1/4 inch dowels. The original wood was a 1 x 3 x 6 inch piece of poplar. He smoothed the edges with a file and sandpaper. If you have any questions, put them in the comments and I'll get him to reply.