The other day I saw a woman wearing a cotton scarf that was layered and unfinished in the most beautiful way. She looked like she just walked off a catalog shoot. I've never been able to pull off that "I just threw it on and it looks perfectly ruffled" look, so I decided to design one that made it easy.
Step 1
Cut a large triangle of fabric on the bias. I chose a lightweight cotton, but anything with a nice drape would work. (Flannel would be nice for Fall.) My piece measured 80 inches across the base and 32 inches high. Run it through the washer and dryer to fray the edges.
Step 2
Fold the ruffles. I figured a diagram would be easiest to understand. I folded mine 8 times, but you don't need to see that many steps to get the idea.
Step 3
Stitch the ruffles in place. I didn't back tack and pulled on the threads to create a little gather before I tied them off.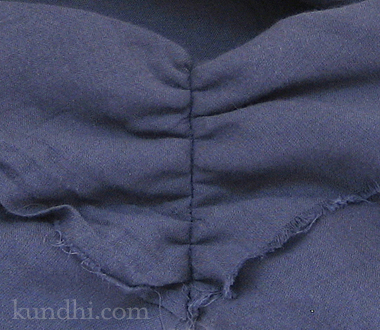 That's it! You can wear it with the ruffles hanging down or wrap it around a few times with the ruffles facing out for that perfectly unfinished look.