Three skirts down! I really wish I would have taken a before picture of this one. When I cut off the waist and flattened out the fabric, there was so much!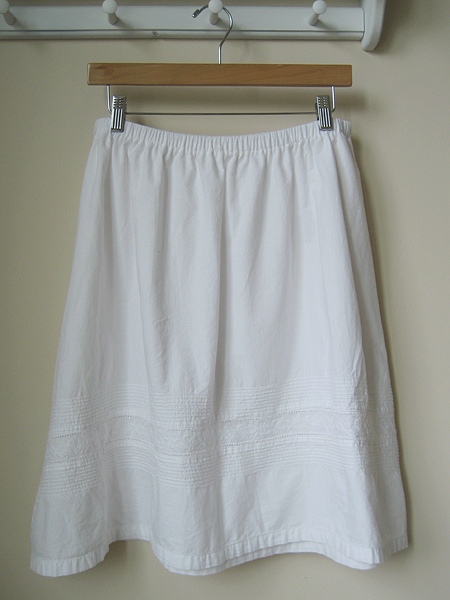 I used an a-line pattern I drafted for myself from Sew What! Skirts. I took about 5/8 inch off of each side after trying it on and will be adjusting my pattern for the next one. Aside from that, this was super easy. I cut it out a few weeks ago and sewed it up today in about an hour.
Usually I shy away from white of any kind on my lower half, but I fell in love with the detail at the bottom. Isn't it lovely? (Yep, I kept the original bottom hem, which made this project go really fast.)
The skirt is a little sheer, but I'm thinking slip instead of lining. Any suggestions for fabric type? I worry that a traditional polyester slip might be too hot in the summer.
thrifted: I think this might be my last skirt from the Goodwill 99 sale. I can't remember! Time to dive back into the stash.