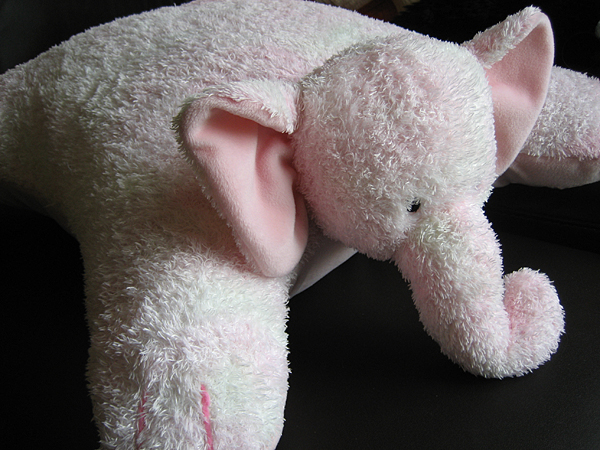 When my daughter was born, we received a sweet elephant Baby Gund blanket as a gift. It's super soft and cuddly. It's also pretty small.
The other day I asked her what she wanted to do with it. She definitely wasn't ready to part with it, so I suggested making it into something else. Something else that might get used, like a pillow.
She loved the idea! Especially when I told her she could help. If you have one of these and are looking to turn it into something for a big girl or boy, it's easy.
Step 1
Using a seam ripper, open up about 2-3 inches of stitches on the side.
Step 2
Stuff it with polyfil, starting with the legs first and working your way toward the middle. This is a great step for your child to help. My daughter LOVED doing the stuffing.
Step 3
Close up the side with a blind stitch.
reshape: I love it when my daughter gets excited about working on a project with me. She adores the pillow and is proud to say she helped out. I think we just added a few more years to Ellie's life with us.