My daughter is in love with Momi the Mermaid. My parents gave her Tropical Water Hide-and-Seek last year and I found Land of Delight at Neat Repeatz last week.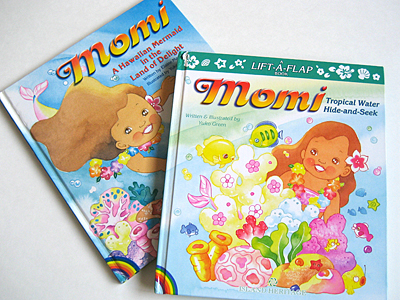 A few weeks ago, she asked me to crochet a Momi. She opened to a specific page in her book and made sure I understood that Momi needed a "flower necklace" and a flower in her hair.
She was a tricky little mermaid with a multi-colored tail and that hair! Let's just say, I'm not the best doll maker in the world. Hearts, flowers and hats I can do great, but arms with hands? (Yes, Mom, she needs hands!) The hardest part was her lei. I used an incredibly small hook (1.3 mm!) and embroidery thread.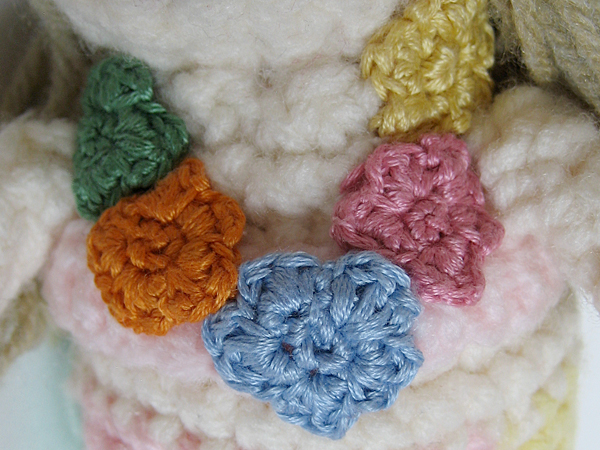 I think I did a pretty good job. My daughter is a little bummed that I didn't crochet flowers all the way around her neck. (But Mom, she's missing part of her necklace!) I guess I'll be adding a few flowers to her lei. In the meantime, Momi has been released into the wild, i.e., my daughter's bedroom. I think she likes her new home on the shelf next to Octopus and Orca.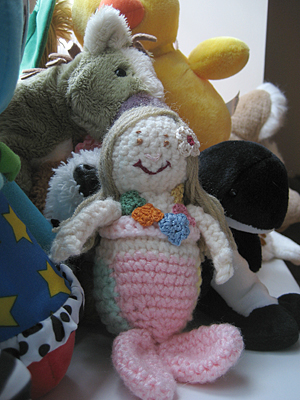 thrifted: I don't have a lot of pastel yarn, especially pink. One day when I was running errands I felt a pull to the nearby Goodwill. I went in and followed The Force back to the craft section. There was a big bag of pastel yarn with everything I needed. I love crafty kismet!