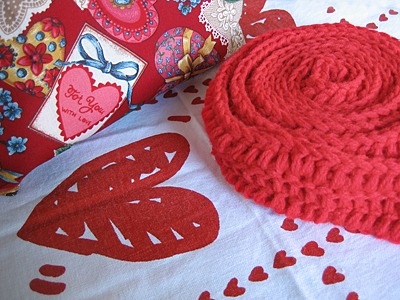 I can't believe I missed the first Creative Space of 2010! I was so busy last night playing around with my "new yarn" that I totally forgot to write a blog post. Whoops!
My creative space for today, and most of this weekend, is filled with the color red and lots of pretty hearts. I'm making good progress on my red scarf for Craft Hope. I have to take pictures of a sweetheart zipper bag that I finished up yesterday. And last, but not least, I plan on making a Valentine's Day bunting out of this tea towel.
I've been missing Kirsty's Creative Spaces and I'm so glad she's hosting them again. You really should check out all of the wonderful blogs listed!