I've been thinking about white lately. Not bright white, but ivory, soft white and ecru. I've been keeping my eye out at the thrift stores, but all I could seem to find was that yellowish cream. Yuck. I even strolled down the yarn aisles at craft stores, which I haven't done in a long time. I couldn't bring myself to buy new. Not when I had so much at home.
Then one day while I was digging around in my stash closet I saw a beautiful, un-felted Gap sweater. It was the perfect color white and so soft: wool, nylon, angora rabbit and cashmere. And it had perfect seams for unraveling (those Gap sweaters always do!)
Friday evening I used a seam ripper to carefully take apart the front, back and sleeves. Saturday evening I unraveled it with the help of my swift and ball winder. This is what I had Sunday morning.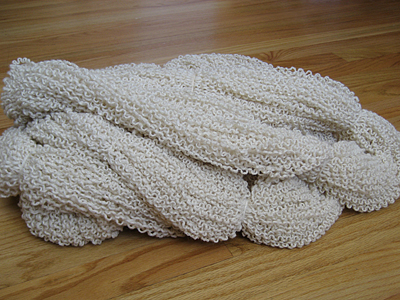 Don't you just love how un-knit yarn looks like ramen noodles? Usually I will just work from noodle-y yarn, but I decided to try and get some of the kinks out. I soaked each bundle in cold water for 15-30 minutes.
After soaking, I hung them up to dry. I put a few wooden blocks in plastic grocery bags to weight the yarn at the bottom.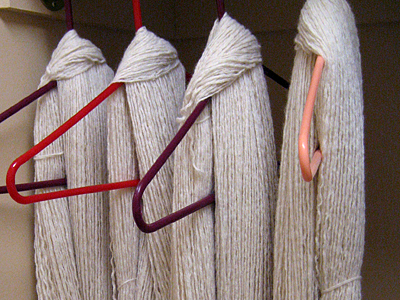 Look at what I have now! Isn't it beautiful? Goodwill is having their 99 cent sale this weekend. I might have to check out the sweater rack.
thrifty reuse: I bought this sweater at a garage sale for $1. Can you believe it? Here's my favorite online tutorial for unraveling a sweater for yarn.