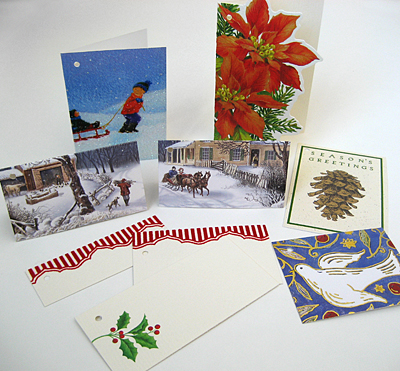 Last year I saved a few of my favorite holiday cards for crafting. I planned to reuse the artwork to make new cards, but when I realized I didn't have any cute gift tags in my stash, I started cutting! I began with 5 cards and ended with almost 30 gift tags in all shapes and sizes.
You'll need:
-paper cutter
-embossing stylus, crochet hook or knitting needle for scoring
-ruler
-small hole punch
I just started slicing away without thinking too hard about the end result. Then I went back and sorted all of the bits.
Large rectangles were scored for fold-over tags. (boy pulling sled)
Borders made great matching flat tags. (red and cream stripes)
Images were cut in half to make coordinating card sets. (snow scene)
Die cuts made really fancy cards. (poinsettia)
Most cards are made out of heavy paper stock and need to be scored before you fold them or they will crack on the fold. If the surface is glittery, cover with a thin piece of paper before scoring.
The final step was to punch holes in the corners so they can easily be tied on to gift packages.
reuse and recycle: This little project didn't take long and was so much fun. If you sent me a really cute card last year, thanks! You just might be getting it back on a gift this year.