It's one of those cold, autumn days where it feels like snow, but all you get is rain. It's not a very good day to be taking crafty pictures for the blog, but it's perfect for cuddling with my daughter and reading lots of books. Our favorite one right now is The Apple Pie That Papa Baked. I love the illustrations, which are done in warm browns, rich blacks and candy apple reds.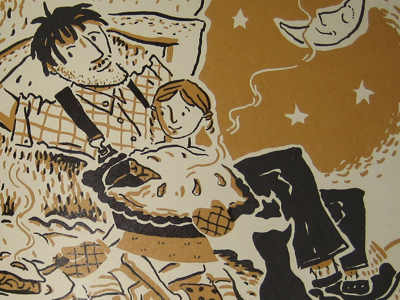 I'm also knitting a pair of brown mittens to match her brown hat, which I finished last night. I wound up making a plain stockinette hat with ribbed border, just like the one she's worn for the past two years. I abandoned the Marsan Watchcap after she complained that the larger size was still too tight. I think she just didn't like all of the ribbing.
Tomorrow and Wednesday we'll be out in the cold, wet weather, so today is all about snuggling with some warm tea and milk. I wonder if I can convince my husband to stop on the way home to pick up some apples?