Actually, I have this little "niece" in Florida. She just turned eight and I know she used to like Charlie and Lola when she was younger. We've just recently discovered Charlie and Lola. I checked out some paperbacks from the library, but my daughter's favorite is this pop-up book from her "Aunt Lisa."
I made a Formula One t-shirt for my "nephew" last spring and wanted to do something similar for his sister. I absolutely adore Lauren Child's illustration style, but was worried that it might be too young for a grown up eight-year-old. I decided to create my own applique flower and add two small Lola-like butterflies.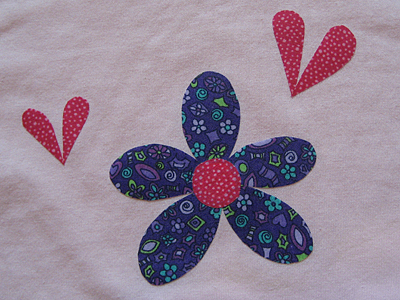 I really love how this turned out. I hope she does, too.
refashion: Scrap fabric and heat-n-bond is from my stash. You can download a pdf file of my flower pattern here.