handmade, no-sew abby cadabby costume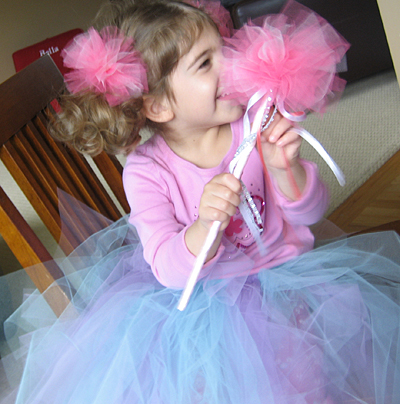 I hope that all of the handmade costumes in my future are as easy as this one. Remember the tulle I found at the thrift store awhile back? Even then I had a feeling it might make its way into an Abby Cadabby costume.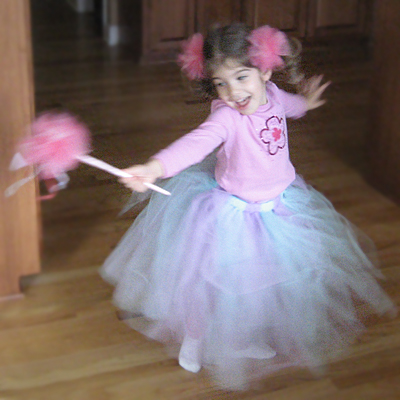 Tutu
I found both of these tutorials very helpful: how to make a ribbon tutu (video) and how to make an elastic tutu. The first one is totally no sew. The second one needs a little bit of hand sewing— you need to sew the ends of the elastic together. I made my strips 40 inches long, so folded and knotted they fell right above the ankle.
Magic Wand
I had never used a glue gun before and borrowed husband's for this project. Why was I so intimidated by hot glue? It was so easy! I used this tutorial for the wand, and the wooden dowel was the only part of this costume that wasn't from my stash.
Hair Poufs
These are just smaller versions of the pouf I made for the wand. I tied them to elastic hair bands.
Wings
I didn't make wings. Actually, I don't know if my daughter even realizes that Abby has wings. She is all about the magic wand. I figured they'd just get in the way, especially if she wore the costume all day, which she did.
Everything Else
The shirt, pants and shoes all came from my daughter's closet. The trick or treat bag is from last year's Halloween crafting.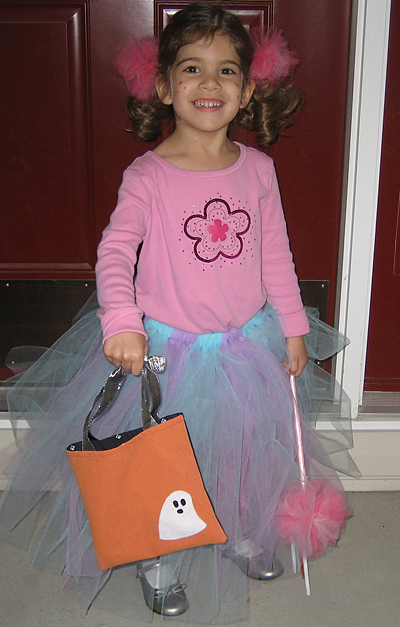 stash: My whole family was sick the last week in October and I didn't start this until the night before Halloween. I was thankful that I had everything I needed in my stash, as I was really not up to shopping for costume supplies with a sick 3-year-old. Luckily, we were all well enough to go trick-or-treating on Saturday!