I'm not sure why I've had pillows on my mind. Maybe because the sun has been hiding behind the clouds for too many days to count? Maybe it's because I've been feeling under the weather? Maybe it's because the holidays are fast approaching and I need some gift ideas for the guys in my life? Whatever the reason, I've been having fun. These are really easy. I know you'll have fun, too.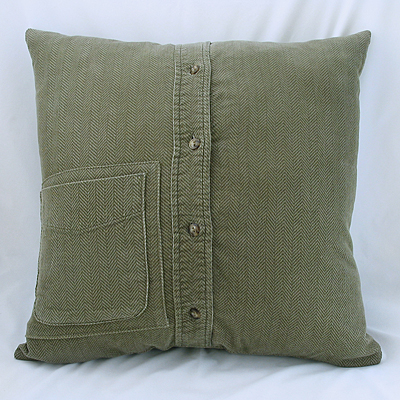 Notes
Remote Control Pillow v 2.0 is for those who only have one tv remote or are using a universal remote for all of their equipment. If you need a multi-pocket pillow, check out my Remote Control Pillow v 1.0 pattern.
Most likely, your pocket will have to be flipped and moved to accommodate a remote control. If your shirt doesn't have a pocket, you can easily make one out of the sleeve or a contrasting scrap fabric. Be creative! Try a denim pocket from a pair of jeans.
Some men's shirts don't have buttons past the belt line. You can take one from the collar or cuff and stitch it on the band.
If you are using a smaller shirt, simply use a smaller pillow form. I usually sew the cover 1″ smaller than the pillow form size so the final pillow will be nice and firm.
Materials
1 – large men's button shirt with pocket
1 – 18″ pillowform
seam ripper
matching thread
Step 1
With the shirt buttoned, cut a 17 1/2″ square out of the front of the shirt. Cut another 17 1/2″ square out of the back of the shirt.
Step 2
Carefully remove the pocket using a seam ripper. Spritz shirt with water and steam press to close up any holes. Reposition the pocket and topstitch in place.
Optional Step 3
If your holes don't close, if you accidentally rip your fabric, or you are using a shirt like corduroy and the nap won't fluff back up, you'll need a patch. Just cut a square from the sleeve and topstitch it over the original area.
Step 4
Lay the pieces together right sides together and sew around the whole square with a 1/4″ seam allowance. Make sure to undo one or two buttons before sewing so you can turn it right side out afterward.
Step 4
Clip your corners, turn right side out and press.
Step 5
Insert your pillow form and button it up!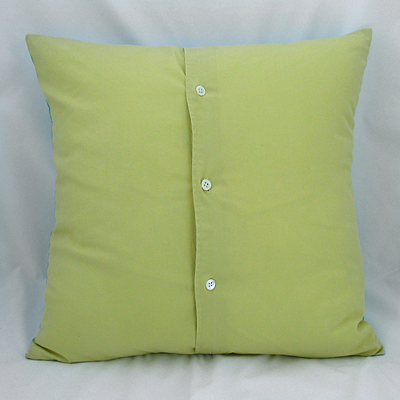 This is an easy way to make decorative pillows, too. If you go to Goodwill on 99 cent day, this becomes a really affordable project. Plus, they organize their clothes by color, which makes it easy to find shirts that match your fabric. I used a little less than a fat quarter of fabric for the decorative pillow.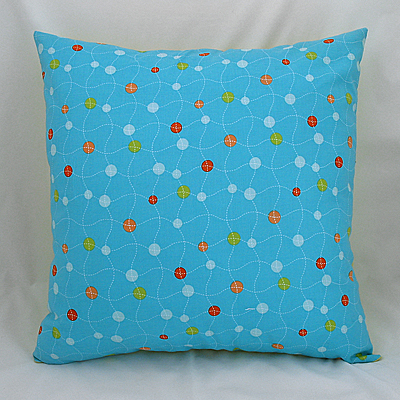 recycle: Before you head out to the thrift store, check your own closet. All three of these shirts came from my husband. In fact, I have him trained now to ask me first before donating any of his clothes!