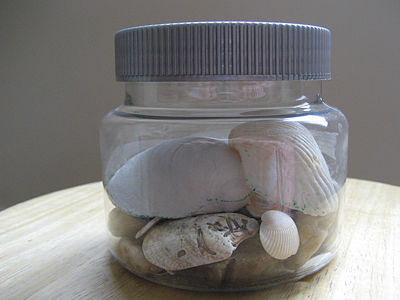 I am just in love with the shape of Archer Farm's almond containers. They're nice and durable and have this great silver/gray lid. I held a few back from the recycle bin because I thought I'd be able to make something cute with them.
When we came back from the beach, my daughter had lots of pretty shells and rocks. We couldn't figure out where to store them. They were too pretty to put away, but I didn't want them laying around, either. Then I remembered these containers. Perfect!
reuse: I still have two more containers and I'm thinking of decoupage with gray and silver paper scraps. What do you think? Any other ideas?