What kind of shoes should a three-year-old girl wear to a beach wedding in October? Will the weather be warm or cold? Should the shoe be casual or dressy? Should you invest in sandals that will probably be too small by next Spring? Where are you even going to find sandals this late in the season?
I decided to take some simple, casual flip flops and dress them up. Here is the before picture:
Step 1
I took four strands of embroidery thread and weaved them through the existing stitches with a needle.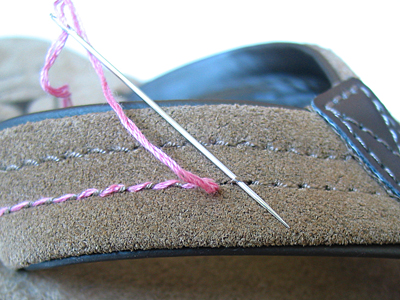 Step 2
I crocheted a flower and stitched a button on the center. Then I sewed the flower onto the strap.
Step 3
I tried to get my daughter to wear them, but she wasn't interested at all. In fact, she wound up wearing her sporty little sandals with her cute frilly dress. I guess I can always remove the flowers and put them on another pair of flip flops next season.
refashion: I used embroidery thread, cotton yarn and vintage buttons from my stash. The flip flops came from Once Upon a Child. The crochet flower pattern is from My Crochet Stuff.