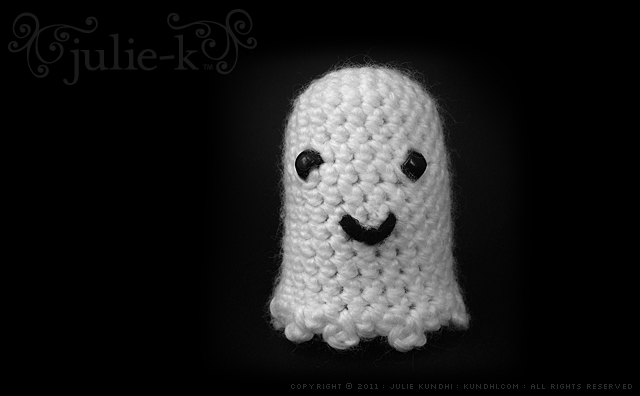 Tomorrow is the first day of October. Are you ready for Halloween? I posted this pattern on my personal website last year, but I have so many new readers over here, that I thought I'd share it again. I think it would be fun to make a big pile of these and string them on a garland!
Glow in the Dark Ghost with Picot Ruffles
Materials
glow in the dark yarn or any worsted weight white yarn
size G/6 (4mm) crochet hook
two black beads for eyes
black yarn for smile
tapestry needle for beads and weaving ends
optional: polyester fiberfil
sc: single crochet
sl st: slip stitch
R1: chain 2, sc 6 in second chain from hook
mark the beginning of your row, move your marker up on each completed row
R2: 2 sc in each stitch around (12 stitches)
R3: *sc 1, sc 2 in next stitch* around (18 stitches)
R4: *sc 2, sc 2 in next stitch* around (24 stitches)
R5-7: sc around
R8 : sc 9, sc with bead, sc 3, sc with bead, sc 10
R9-15: sc around
R16: *[sl st, chain 3, sl into same st] sc* around for picot edging
Tie off, sew on a little smile, and weave in your ends.
I didn't crochet a base because of the picot ruffle. Not to say that it couldn't be done. This is more decoration than a toy, so I stuffed it with fiberfil to give it shape, but it's open on the bottom.