This summer we bought our daughter a cute bike from our neighbor's garage sale. My husband is planning to take the pedals off and make it a balance bike. My job was to mend the handle bar cover, which was torn.
Using my trusty seam ripper, I picked out the hem and removed the velcro. With a cloth on top and low heat, I pressed it flat and used this as my pattern.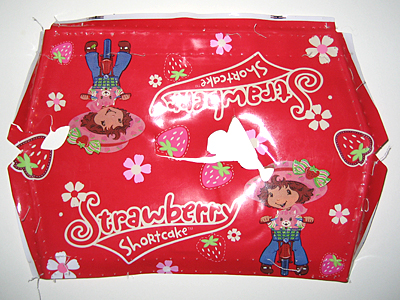 The cotton I chose was too lightweight on its own, so I backed it with some denim. Here's how I did it:
Traced around the pattern on both fabrics adding 1/4 inch seam allowance.
With right sides together, I stitched around leaving a gap for turning.
Clipped my corners, turned right side out, and top stitched around, closing up the gap along the way.
Reattached the velcro.
I think it looks better than the original, especially since my daughter doesn't even know about Strawberry Shortcake.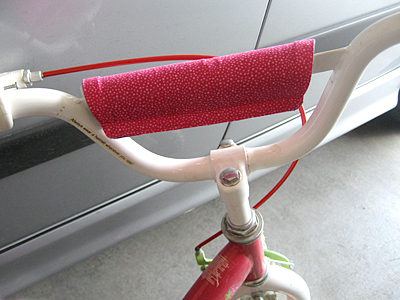 mend: Simple sewing projects can make me so happy. I love being able to say, "I can fix that!" Cotton fat quarter from my stash, denim from thrifted jeans.