I try hard to limit our impact on the earth. When I'm at the grocery store, I look for items with recyclable packaging. Sometimes, it isn't always possible, though. For example, we eat a lot of frozen peas, I don't always have time to make our bread, and I don't have any time at all to make tortillas!
I know I need to cut myself a break now and then, but this week we were overwhelmed with plastic. Last week was my daughter's birthday and there were bags filled with air, bags to hold toy parts, and for some reason, a lot of food bags. Every time I went to put one in the trash I had this question in my head: How long will this be sitting in a landfill?
Yes, I worry about our landfills. I'm concerned about what seeps into the ground and finds its way into our drinking water. I wonder how many big piles (or holes, I guess) of trash will exist when my daughter is my age. I know this worry is kind of crazy, especially for someone who tries hard to minimize my impact on the planet, but I know I can always do better.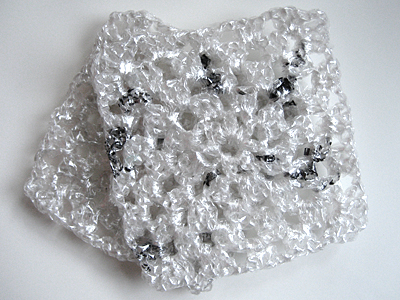 Yesterday I grabbed a bunch of clear plastic packaging bags and made some granny squares. I'm thinking of turning them into a small zipper pouch. It was hard to capture with the camera, but they are very sparkly.
They just made a dent in my bags for the week. I'd like to fuse my extra bags and make "fabric" for sewing totes, but I'm concerned about the fumes. I am very sensitive to smells and I'm worried about getting a headache that might last all weekend. Maybe if I did it outside on the deck? Does anyone have any experience with this?
recycle: I'm always looking for ways to recycle our non-recyclables, but in the end, I think the best thing to do is limit what we bring into our homes. It's hard, especially in our convenience-packed culture, but it's something I think is really important.