My daughter starts preschool next week and she needed a backpack. I asked her if she'd like me to make one for her and she said YES!
I let her choose fabric from my stash and helped her with coordinating the colors. I really like how it turned out and she loves it. My only problem is getting her to wear it. Right now, she just wants to carry it by the straps.
I used Martha's Easy Beach Bag pattern with a few modifications:
• inside is canvas instead of nylon
• inside has two pockets
• used fabric instead of cord for the straps
• serged the raw edges inside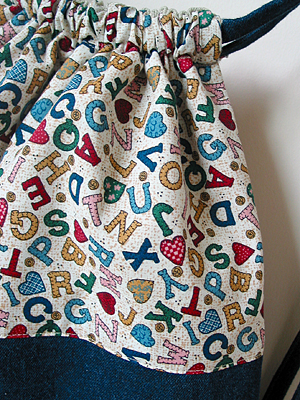 Drawstring Strap How-to:
Feed strips of denim through a 1-inch bias tape maker, fold the tape in half and stitch it together. Once threaded through the loops, sew the ends together because they'll be too thick to knot.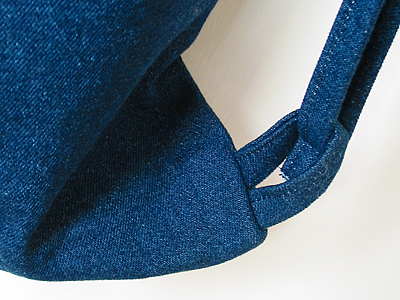 stash: This is one of those occasions that I love having a stash of fabric. It's so easy to dive right into a project when the motivation strikes! Plus, using a thrifty stash is so affordable. I'm guessing this cost less than $2 to make. Sweet!