Even though I wrote this tutorial for a kid's size dress, you can do this with adult sizes, too. This is the same way I turned a shirt into a skirt.
My daughter and I both love this dress. She only wore it a few times last season because it was too big. This year it is too small. It probably would have fit her best when it was 20 degrees outside.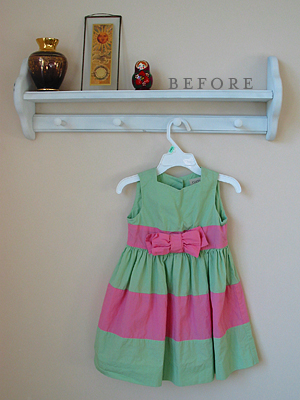 The other day she insisted on wearing it. (Yes, it was still hanging in her closet even though it was too small.) I let her try it on so she would see that the buttons could no longer be buttoned. While she had it on, I realized that it was just the top that was too small. The bottom fit just fine. Hmmm… what if I turned it into a skirt?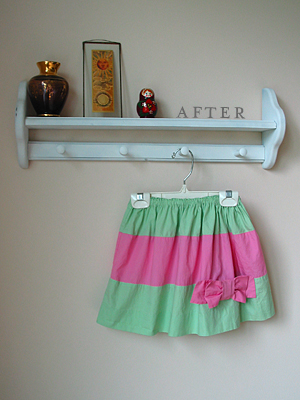 Step 1
Cut off the bottom of the dress. If your daughter is as tall as mine, use a seam ripper. It takes longer, but she needs every bit of length I can save.
Step 2
Measure your daughter's waist. Add an inch and then cut a piece of elastic. I used 3/8″ wide elastic.
Step 3
Fold the top edge down 1/4″ and press. Then fold 5/8″ and press.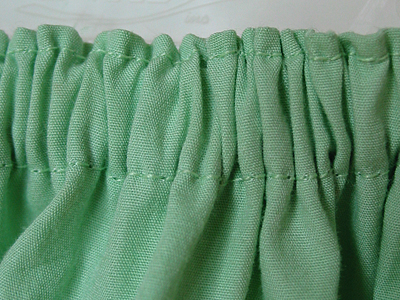 Step 4
Sew the waist leaving an opening for the elastic. Edge stitch the top to help the elastic stay in place.
Step 5
Thread the elastic through the waist casing, sew elastic ends together with a 1/2″ seam allowance, and close up the waist.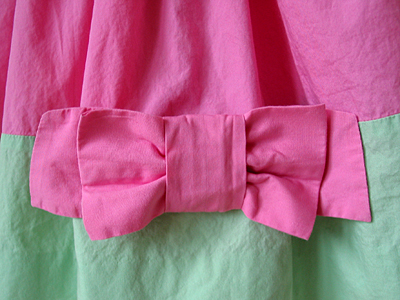 My daughter was so excited to see her new skirt. She especially loves the bow. The original dress had a two inch hem. If she's still in love with it next season, I guess I'll be letting the hem down, too.
refashion: Sewing clothes is sometimes easier if you don't start from scratch. Refashioning a favorite piece of clothing can make you happy, your budget happy and the earth happy.
Thanks to whipup.net for linking to my tutorial and welcome new readers! For more crafty updates, visit my Facebook page!