A long time ago I started to crochet a tote out of plastic grocery bags. I thought it would be a good way to keep the bags out of the landfill. It wasn't fun. The plastic was sticky and it hurt my wrists. Then my recycle guy started accepting the bags for curbside pick up. That was the end of the guilt and the project.
The past few weeks, I've been taking a hard look at what we put in the trash. Was there anything else I could possibly recycle? Tea bag envelopes? Receipts? Bread bags?
I did some investigating and my recycling guy only accepts newspaper, dry cleaning and grocery bags. If I can't put them at the curb, what else can I do with them? I know others have crocheted them just like grocery bags, but when I tried, they kept breaking. Plus, I'd need to eat a lot of bread to make anything substantial. Then I got an idea. What if I cut really thin strips and held them along with something else?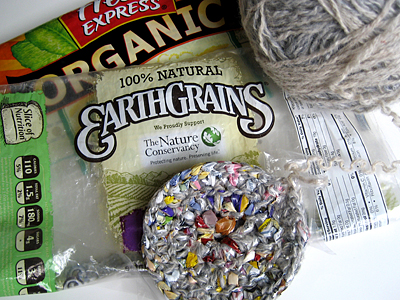 I am totally loving this! I'm using recycled sweater yarn that has a bunch of knots. The plastic hides the yarn imperfections and the yarn keeps the plastic from breaking. If the plastic does break, the yarn holds the "fabric" together.
This is so much easier on my wrists! And check out the pretty colors! Not bad for some plain old gray recycled yarn.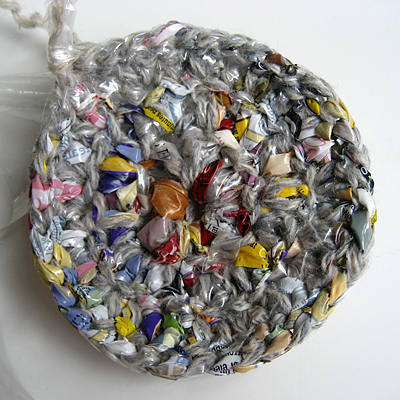 So far I've used bread and tortilla bags. I've also got a salad bag to throw into the mix. I'll keep you posted on my progress!
recycle and reuse: I love thinking of new things to knit and crochet. The yarn is from my first attempt at recycling sweater wool. This is a good project for both frugal and green crafters!