I've got way too many pictures for this little refashion, especially because it was just a practice project. I bought this shirt because I liked the embroidery on the front and back. You've gotta love fabric that comes already embellished!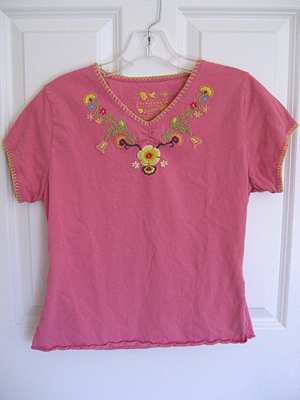 It's loosely based on this Simplicity for Kids pattern. I say loosely because the pattern didn't really cooperate with the embroidery. Not only that, but the shirt was crooked! There was more pink fabric on one side than the other.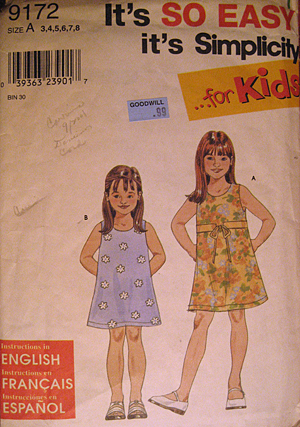 I used the 3T size, because that's what Bella is mostly wearing these days. It turned out a little big.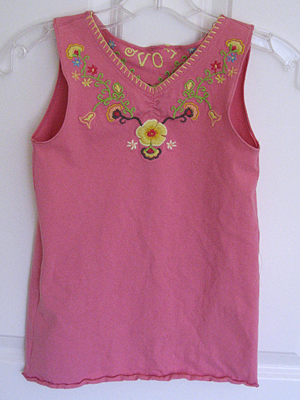 I'm still trying to work on two skills: sewing knits and using my rolled hemmer foot. My seams are still a little wonky, but they are improving.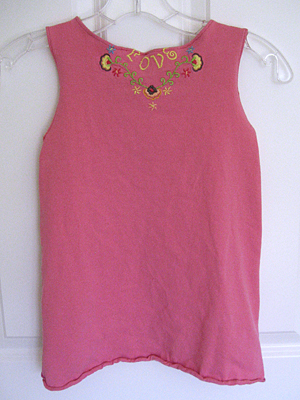 Here's the awesome thing, though. When I was taking these pictures, Bella asked me what I was doing. When I told her I made her this dress, she grabbed it and said, "Thanks, Mommy! I love this dress! I love it!" Then she rolled it up in a little ball and began to hug it.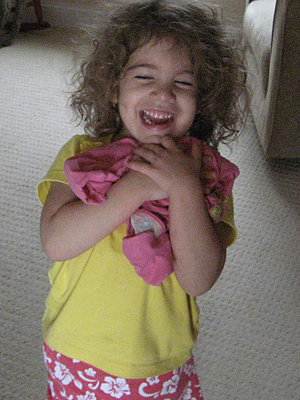 It wasn't until she tried it on that I realized how big it was. She told me it was fine. I'm hoping she'll grow into it before the end of the summer. (Please excuse the post-quiet time crazy hair.)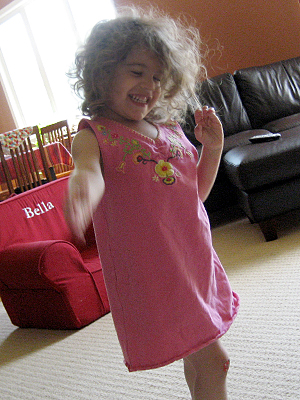 refashion: I've been collecting cute t-shirts to turn into dresses. This one was from a church garage sale. Most of them are from 99 cent days at Goodwill. Pattern was also from Goodwill. It goes up to size 8!