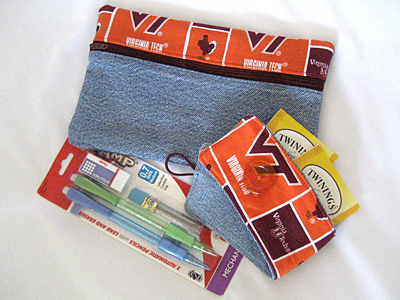 My brother is very smart. He's got one of those jobs where he can't tell you what he does. I have a feeling I probably wouldn't understand a lot of it if he could. He's also working on his PhD. Both involve a lot of hard work and math. Two things that he can always use: pencils and caffeine.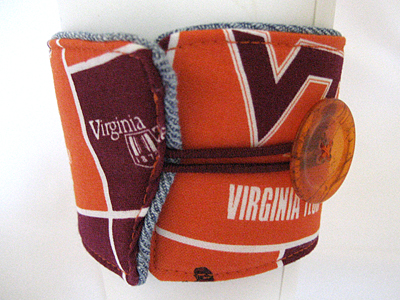 If you've been reading my personal blog for awhile, you know that he went/goes to Virginia Tech. He never tires of Hokie-themed gifts. (I asked.) I figured what he needed these days was something for all of those pencils and caffeine. I made him a pencil case and tucked some extra mechanical pencils, lead and erasers inside. I also made him an adjustable coffee sleeve and sent him a big bag of his favorite tea.
recycle: I can't believe I am still using up VT fabric scraps from a yard I purchased over a year ago. Denim was from a pair of jeans. (Freecycle is a great source for denim!) Fabric and button were from my stash. Elastic was a colored pony tail holder.