project to do: crochet jar jacket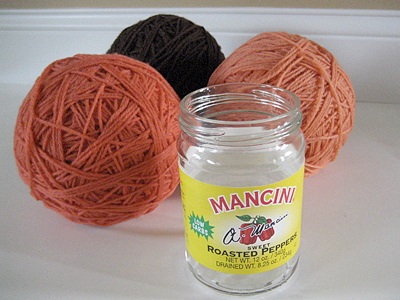 This yarn has been sitting in my stash for over a year waiting for the right project. I have six balls total and got them all for $5 at a garage sale. When they passed the burn test for wool, I was even more excited! I was thinking of making a blanket because they are so close to the color of our walls.
Since then, I have found Lucy over at Attic 24. Every morning I look for her latest post. The colors of her projects and photos are like a little dose of sunshine, which has been nice these past few cloudy days! Now, I'm planning to make some crochet jar jackets. The flowers are starting to bloom and I could use a fast and easy project to brighten my day. After a few of those, I'm planning to make this bag. I like the idea of having a place for my current projects to live that also matches my living room. After all, that's where I do most of my knitting and crocheting!
I'm almost ready to start working on my to-do projects. I've finished the wedding, annivarsary and birthday gifts and should be able to post them on the blog next week. All I've got left are a few things for Father's Day. Next week will be filled with finished photos!
stash: I'm so glad I didn't walk away from this yarn when I found it. The colors are just perfect. I knew I'd find a project for it eventually.