We have a sisal rug as a door mat that we bought from Restoration Hardware more than 10 years ago. I love the look of sisal, but it's a little expensive. I thought it would be easy to reproduce by knitting with sisal. I got a ball of it at the hardware store a few years ago. It's still sitting in my stash. I'm just not motivated to knit a big rectangle with scratchy twine.
In the meantime, I found a natural colored rag rug at Target a few years ago on clearance for $5. They only had one. We've been using it by our garage door and it works fine, but I don't really like the look of the tassels. I do like that it is softer than the sisal. It feels a little nicer in our kitchen area.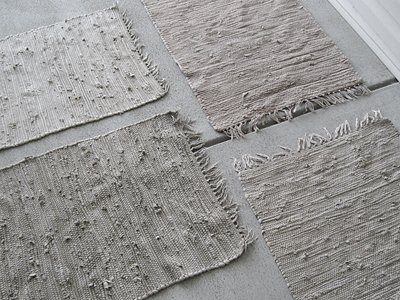 Then one day at a church sale (have I mentioned how much I love church sales?) I found three more rag rugs that matched ours. The colors are all slightly different, but they are in the same family. I got an idea. What if I cut the tassels off and added fabric trim. I get the look of my favorite rug, but softer and cheaper. (I got all three rugs for $1.)
I've washed all of them and I'm just waiting for a little bit of free time to dive into this project. I don't expect it will take long, but I think there will be some hand sewing involved. I don't know about putting these under my presser foot, even if they do fit.
refashion: Refashioning isn't just about making over your clothes. Try refashioning items for your home, too. Sometimes the best way to find the perfect accessory is to make one yourself.