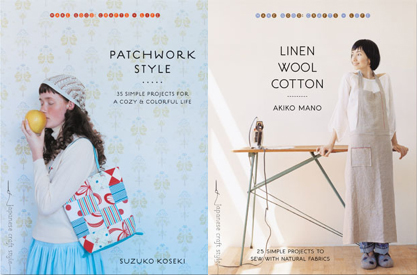 I bought these books for myself for Mother's Day. I had flipped through the pages of Patchwork Style at knitting group enough times that I felt I should just buy it already. They didn't have a copy of Linen, Wool, Cotton at the bookstore, so I ordered it sight unseen. Well, I had seen a few pics of some of the pages around blogland.
I was really drawn to the organic feel of Patchwork Style. It reminded me of how I felt when I discovered David Carson. Bend the rules of grid and symmetry. Expose your raw edges. Cut things up and paste them back in a different order. Designers either loved him or hated him. I was inspired by him to think in new ways. That's how this book makes me feel about sewing.
Contrast that with Linen, Wool, Cotton. The beauty here is in its simplicity. Focus on that one, special, important detail. A lot of European graphic design is like that. Embrace your grid. Use your white space. Order and simplicity lead to elegance.
Both of these books have turned my thoughts about sewing upside down. Previously I'd been focused on learning and constructing. Now my head is full of fresh ideas. It's overwhelming. I don't know where to begin. I figured the best place to start would be writing it all down. Next step: getting out the sketch pad.
stash: Some books you just can't check out of the library. They inspire you so much that you have to own them. There are free patterns from both over at MakeGoodBooks. I can't wait to see Carefree Clothes for Girls!