I've had a shift in focus over the past few months. I've been slowly moving away from felted wool bags to try new things. I'm not completely abandoning them, but I need room for my new adventures. This hit me over the head on Saturday when I found some really nice things at a local church garage sale. I have a small amount of storage space, so whenever new stash comes in, other stash must go. I packed up three bags of sweaters, which I'm putting up on freecycle today if you are interested. Some are already felted!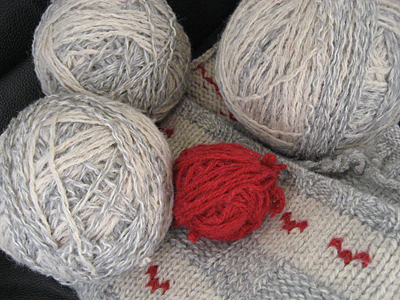 I'm spending most of the long weekend sewing and last night I needed something to help me unwind. Ha! I've always wanted to unravel a sweater, so I grabbed one from the giveaway pile and went to it. It was very relaxing. I find desconstructing  just as exciting as making. My mind starts racing with the possibilities: a baby blanket? matching scarf and hat? thick, wooly socks?
I have no idea what I am going to with this yarn. I certainly don't need any more in my stash. There are knots at the end of every color change. I was thinking it would be cool to work them into the design. Something in seed stitch might be nice. What do you think?
recycle: There are so many beautiful wool sweaters that have been discarded. Try unraveling one for your next project. Where else can you get yarn to make an entire sweater for just a few bucks?