A few days ago I went to straighten up downstairs for house guests and I found this shirt in the closet. I forgot that my mom had left it for me after her last visit. She wasn't happy with how the v-neck looked. When I tried it on, I thought the same thing. It didn't look bad; it just didn't look great. It was a nice size on me, though. I liked the colors and it's really soft.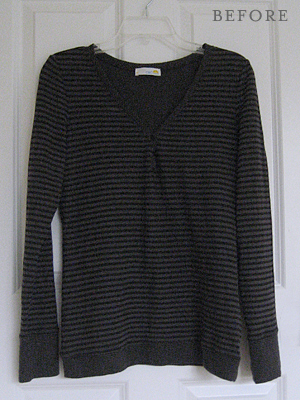 I decided to turn it into a cardigan. I'm always chilly in the summer when I'm inside in the air conditioning. I think this will be perfect to throw over a tank top or short sleeve shirt.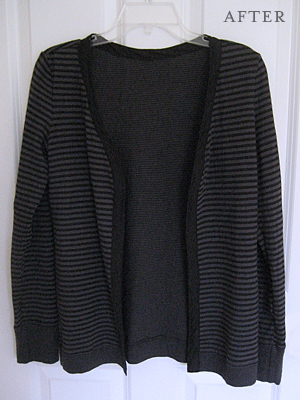 How I Did It
• Made the bias tape out of some black cotton from my stash.
• Removed the buttons.
• Cut a straight line from the v-neck to the bottom.
• Sandwiched the raw edge in the bias tape and pinned.
• Sewed all the way around 1/8 inch from the inside edge of the tape.
• Sewed all the way around 1/8 inch from the outside edge of the tape.
I really like how it turned out. I did an ok job sandwiching the edges in the bias tape. I may fiddle with how I do that in the future. Overall, I think my first wardrobe refashion was a success!
refashion: If you have a shirt that you really like, but it doesn't fit well, turn it into a cardigan. Cotton for bias tape from my stash, shirt from my mom.