I must have been really tired when I wrote my last post because when I came home from my weekend away the coffee sleeve looked totally fine. Sometimes we just need a little distance from our work to give it some perspective.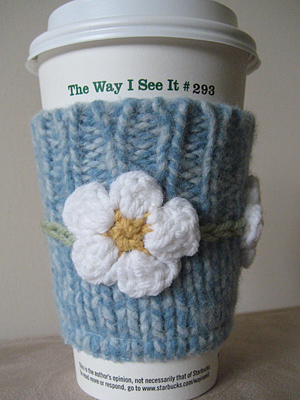 I know April is all about showers, but I lately I have been obsessed with flowers, especially little crocheted ones. I've tried a few different patterns, but keep coming back to this one by Mimi. The stem is a simple chain stitch.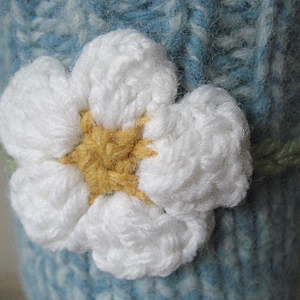 Would you like these little flowers for your cup of java?
How to enter: Mention this giveaway along with a link back here in a blog post, twitter update or facebook status and then leave a comment telling me you did so. If you don't have any of the above (really? are you serious?), then leave a comment here and tell me what's your favorite spring flower.
Since I didn't get this post up until late on Monday, I'll give everyone until Thursday, midnight CT to enter. Cool? Good luck and Happy Spring!
recycle: thrifted wool sweater sleeve, thrifted yarn