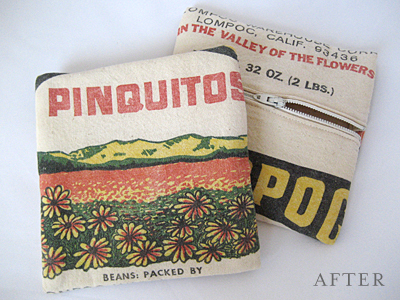 I love how these little purses turned out. They weren't at all what I was thinking, but I really wanted to show off the flowers and mountains. A square zipper pouch was the best way to do just that.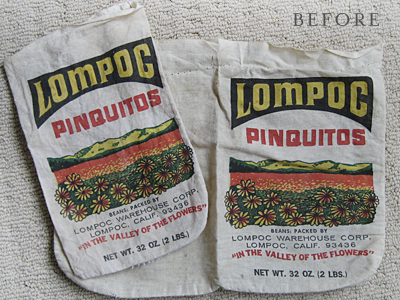 I didn't want to wash them because I was afraid that the color might fade, but I had to because they were kind of dirty. I was worried that they might unravel, so I sewed a basting stitch around the edges before I put them in the wash. Good thing, too! The edges totally frayed up to the stitches.
The bags were a little delicate and I wanted to make them more substantial so I used some cotton quilt batting to give them their shape. I used the front of the bag for the outside and the back of the bag for the lining. To solve the fraying issue, I enclosed the raw edges in a french seam. There were a few holes from the original stitching that didn't work themselves out in the wash. They don't look like they are going to unravel, but I dotted them with some Fray Check just in case. These were super fun to make and I finished them in one evening.
recycle: bean bags purchased at garage sale, leftover batting from stash, one zipper was thrifted, one zipper was reclaimed from a garment