A few months ago, I signed Bella up for music class. It was a very basic introduction to different kinds of music and dance. One of the activities was making a shaker egg. The kids had so much fun with them that I decided to make a bunch more with our leftover plastic Easter eggs.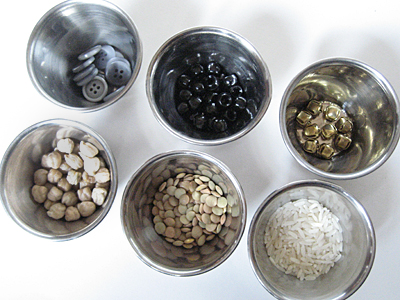 I dug through the pantry and my craft supplies to get a range of items that would make different sounds: rice, lentils, chick peas, buttons, beads and bells. I put a teaspoon of each item in a separate egg. I applied crazy glue to the inside edge of the egg and snapped it shut. Then I wiped the excess off the outside of the egg and let it dry overnight. I made enough for Bella and her friends and sewed up some cotton bags stamped with each child's name.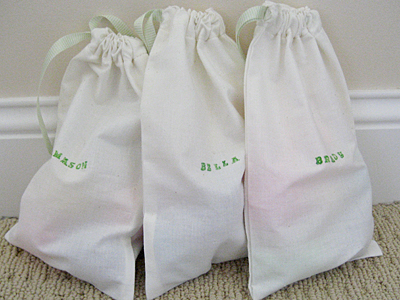 I learned the hard way that you really need a super, duper bonding glue for these. My first attempt was a non-toxic plastic model cement. It didn't keep the eggs shut, so I opted for the heavy duty crazy glue instead.
These are great for kids ages three and up. If they eggs do come open (say, perhaps, if a toddler were to step on one, ahem) the inside items could be a choking hazard.
reuse: Instead of throwing out little containers that aren't recyclable, turn them into something musical and fun.