Here are the little dolls that I poured my heart and soul into for my daughter. They sit on her window sill practically untouched. She got a "Thomas the Choo Choo Train Coloring Book" the other day so the dolls' heyday is officially over. Although she now knows four new words: vampire, ghost, skeleton and zombie.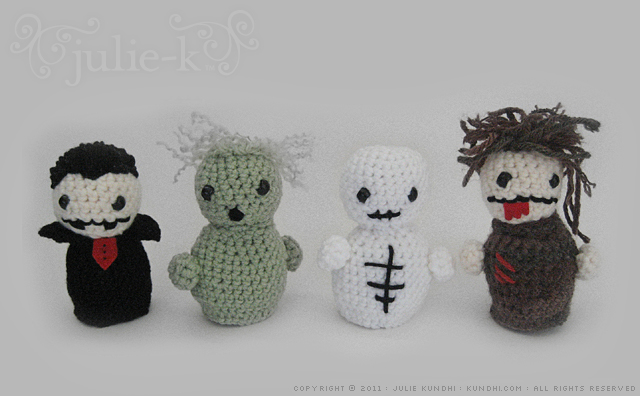 They are an early Halloween present. I say that because it sounds much more on the ball than calling them a late birthday present.
If you don't know me all that well, you may think it's weird that I would make these for my two year old. I'm a pretty big horror fiction freak. My favorites are Anne Rice's Vampire Chronicles and her Mayfair Witch books. I have watched every episode of Buffy the Vampire Slayer and Angel too many times to count. (When I was in labor with M, I watched almost all of season seven.) I've seen most of the Jason, Michael and Freddie movies. I own the Bela Lugosi and Gary Oldam versions of Dracula (love them both!) and my favorite horror film of all time is The Hunger.
Not that I'm going to encourage her to watch or read any of these. I simply fell in love with the pattern and it seemed too self-indulgent to make them for myself.
Occasionally I find find them in her bed after nap time or in her Lego bin. I'd really like to put them on the window sill in my office, but they were a gift. I'll just sneak in her room and visit them every once and awhile.