When I was in college, I had an oversized barn jacket that I just loved. When T and I moved in together, he decided that he loved it, too. When the weather turned cold, I'd reach into the closet for my jacket only to find T was already wearing it. I figured the only way to get my jacket back was to get him one of his own. It worked. I gave it to him for his birthday and he started wearing it immediately. I got my jacket back!
One day, we noticed a hole in his pocket. It was pretty big and right in the middle. He couldn't remember snagging it on anything. A few days later he had another hole. It was bizarre. He backtracked through his day, remembering when he was wearing it and what he was doing. Nothing special had happened all the way up to when he came home and put it on the back of the dining room chair. We went over and took a look at it. I examined the pocket, found a roll of mints inside and figured it out!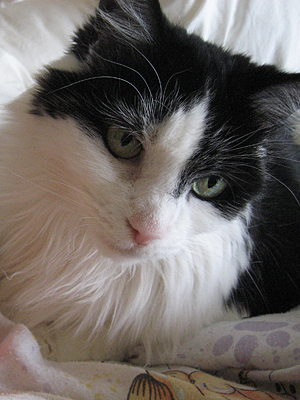 Chloe LOVES mint. She will do anything for it. Catnip pretty much does nothing for her, but mint? It makes her go crazy. Crazy enough to chew a hole through a brand new barn jacket pocket to get her fix.
T continued to wear the jacket, but the hole started to fray. Once it started looking ragged, he saved the jacket for weekends and outside chores. He was back to wearing my barn jacket the rest of the time. That was before we were even married. A lot of time has passed and he still only wears his jacket for things like shoveling snow, cutting down Christmas trees, etc. I decided to fix it for Father's Day.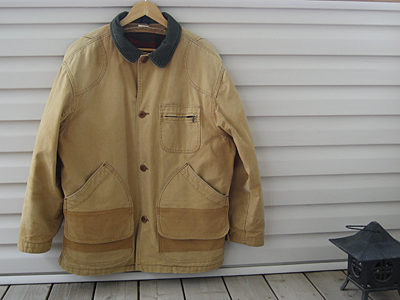 It wasn't too hard, but it was time consuming. I had to rip all the double stitched pockets carefully, cut them up, rearrange to hide the holes, and then restitch them together. Then I had to do the same thing to the other side so it didn't look weird. I tried to find complimentary or contrasting fabric, but had no luck. I am kind of bummed that the underneath fabric was so much darker. The jacket has seen a lot of sun and is really faded. Overall, though, I like the end result. He did, too, by the way. And he plans to keep it in the closet from now on.