Ever since last Thursday, I've been spending a lot of time outside, especially in the mornings. It seems like every time I turn around, Bella is at the door asking to go for a walk. It's been getting hot in the afternoons, so we've been going out early. I'm not usually a morning person, but lately I've been finding myself getting up and getting ready earlier so we can enjoy the morning air. Most days I take her out in the stroller to get exercise, but we've also been wandering up and down our street picking dandelions and reading letters off of the Parade of Homes sign. Most exciting for Bella, though, is wearing these: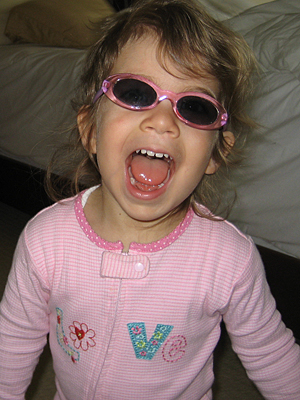 As you can see, she doesn't just wear them outside. They are pretty much on from the moment she gets up to when she goes to bed. She even wanted to wear them in the bath last night. Now, if I could only get her to wear a hat!
. . . . . . . . . . . .
I added an embroidered flower to the dress I made yesterday and posted it in my shop. This was so much fun! I plan to make a bunch more for sale, but the next one is going to be for Bella (this one is a 12 month size). I've already chosen the t-shirt and fabric.