I know I said I didn't have any New Year's resolutions and then I mentioned the whole I Want to Read More thing. Well, here's another non-resolution. We are trying very hard to get rid of our extra stuff, but we really don't want it sitting in a landfill somewhere. My friend Sarah encouraged me to join our local FreeCycle because she thought it would be a good way for me to get sweaters for my bags. I never expected it to have such a big impact on our lives. Everyone is so appreciative of what you have to give.
Our most exciting story is about our gas grill. It's been sitting unused in our garage for over four years. We have a grill on our cooktop that we love and use all year round. We've been thinking of getting rid of it, but what do you do with a gas grill? Haul it up to Goodwill? Would it even fit in our car? Then one day a FreeCycle email landed in my inbox: Wanted: Gas Grill. I'm pretty sure this couple was expecting a small gas grill. When they came to pick it up, they were kind of floored. Later that evening I got the nicest email from them. They had already used it and were so excited to have it. They planned on using it lots in the future. That made us feel so good—instead of wasting away in our garage or the landfill, our grill was cooking up food for another family.
Slowly I keep gathering up stuff and listing it for others. I'm amazed at some of the stuff that has been hauled away from our house. Remember way back when the wind blew our patio furniture all around the backyard and broke our table?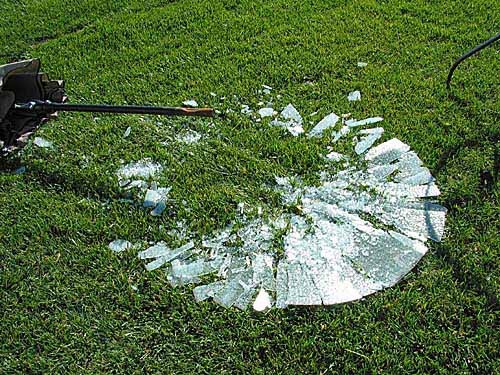 Someone actually wanted the frame. They came to pick it up within 24 hours. We couldn't believe it. That's something that even Goodwill wouldn't have wanted.
We've had a lot of success with this and I encourage you keep your unwanted stuff out of the landfill, too. Each city is different, so I can't guarantee that you will have the same luck that we have had. Also, you should be safe. Request pick ups in the evening or weekend when more than one person is home. Leave items on the porch or in the driveway instead of answering your door whenever possible. Try it, though. You never know what your neighbors need. Who knows, you might find something you need, too!