Yep. It's still snowing. Are you getting tired of the view of snow from my front porch? I am. Here's a shot from the UNL web cam. (You can go there and watch the snow fall in real time, if you like.)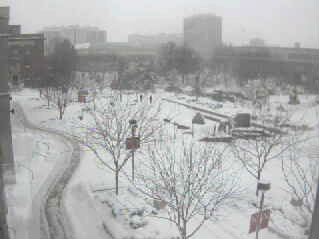 T's dad arrives this evening and it appears that his flights are on time. He flies through O'Hare, though, so who knows what kind of delays he might encounter. Flights are delayed all the time from O'Hare, even when the weather is fine.
It's so nice to have the basement finished. Getting ready for house guests is so much easier now. All I really need to do is put dinner in the slow cooker and then I'll be off to knitting group for our holiday ornament exchange. Last year I knit a mini Santa hat and this year I made a mini stocking. I think I might also make a mini tree out some green felted sweater wool, just in case someone forgets to bring one.