Last year my brother and Frances got the award for funniest birthday card ever. This year the award goes to POTUS.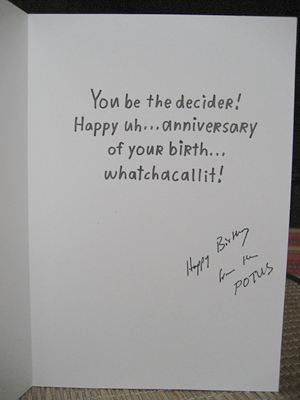 You can't really tell from the picture, but his head wiggles around.
I WAS the decider for the day. I didn't do much of anything and worked really hard over the weekend so I wouldn't have to yesterday. Lauren and I strolled Bella up to Wilderness Perk, where I got my free birthday pumpkin spice latte. We also got lunch at Subway, which is quickly becoming an after coffee tradition. I didn't do anything productive in the afternoon except buy some fabric off of ebay. (Gotta a good deal!) We got take out from Macaroni Grill and I spent the evening with Bella and T. It was a great day. Thanks everyone for the cards and well wishes.