So that thing that I've been working on for the past few weeks? It's now up and ready to go! I've been making tote bags—some out of felted sweaters and others out of shirts. Christy was kind enough to invite me to a craft fair last week, which gave me a deadline to get some things produced. I didn't sell anything that night, but I did make my first sale on Saturday. Cathy of Lincoln Knitters was my first customer and bought one of my favorite totes.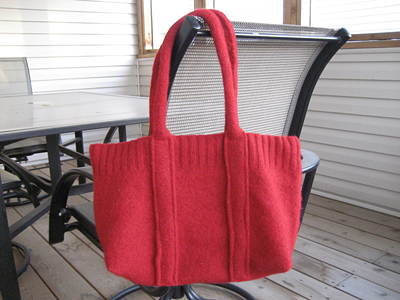 I actually gave away my first tote to my knitting exchange buddy, Yvonne.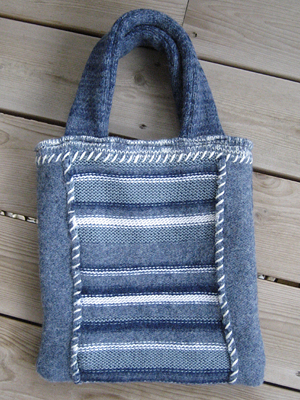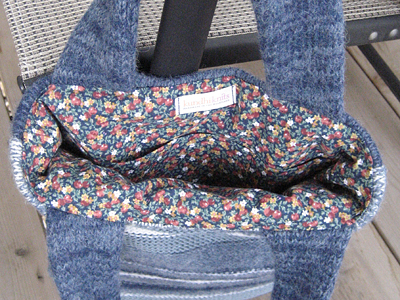 I'm trying to be environmentally thrifty with my totes. All are made out of sweaters or shirts that might otherwise end up in the landfill. The leftover felt and fabric will be used up in scarves and maybe hats or blankets. I'm also sewing the shirt tote bags large enough to carry groceries or library books.
I'm really excited about this project. I still love graphic design and it is definitely my primary passion, but technology (specifically the pdf file) has pretty much taken all of the hand work out of my job. I miss comping up folders, brochures, envelopes, boxes and direct mail packages. I also still love knitting, but it's just not going fast enough for me these days. The tote bags combine my love for creating things by hand and the instant gratification I've been craving.
So, that's why the blog has been quiet: I've been pushing to get some things done and up on etsy. I've got lots more sweaters and shirts to keep me busy for awhile.
I also take requests for custom orders. If you've got something you love and it never gets worn, let me give it new life for you! I also do pillows, Christmas stockings and I'm thinking of trying felted sweater teddy bears.