When my parents were here, Liz came over for a sewing lesson to teach me how to read and follow a pattern. Liz is a great teacher and VERY patient. My first project was a sleep sack for Bella.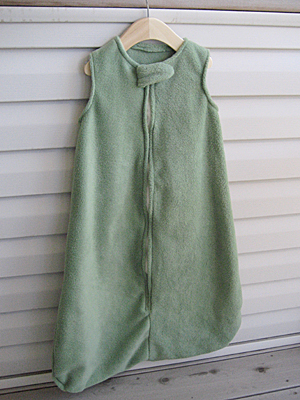 Yeah, I know it's huge. It's the XL size for this winter. Liz helped me all the way up to the zipper and then left me to finish it up on my own. I was very proud of myself, until I realized I sewed the sleeves shut! That was a quick fix, though. I added a little flap to cover the zipper top. I'm going to order a different zipper for the other one so it will close on the bottom.
This was a pretty easy project, especially for a beginner. I can't wait to tackle the next one. I've also been making some tote bags and bibs. Don't worry knitting buddies — I haven't given up my needles!