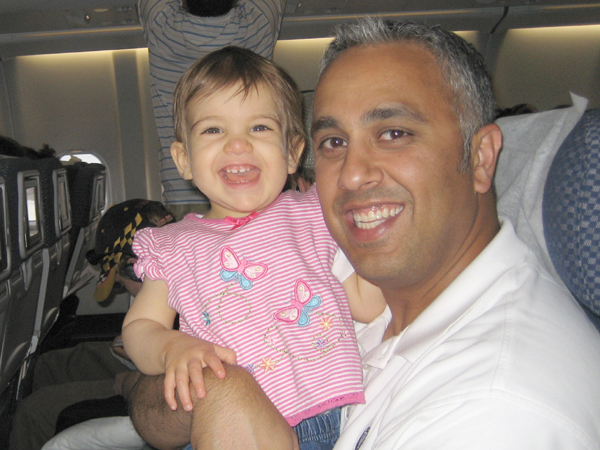 We're on our way to England. It's kind of funny how we're celebrating Independence Day by going to England. Most of you know, Tanuj and Claire are getting married in Brighton. Right now we're on our way to Detroit. We have a long trip ahead of us. So far, M has been good. She had a little screaming fit because she was tired, but didn't want to take a nap. (What else is new?!) Now she's sleeping on T's lap.
Getting ready for the trip was a little overwhelming. Usually when we travel I take care of myself and T takes care of himself. This time, I took care of all three of us. There were so many little details: diapers, baby food, confirmations for hotels that I didn't even book, and new things like how do we get the cheeky monkey on the freaking car seat?!
With all the little details to worry about, I didn't really think much about the big things. You know, everything on the news. All the stuff that no one wants to bring up in a conversation with me because they don't want me to freak out. I'm not really freaked out, though. The first time I visited London was in January of 1991. I was taking a drama class. On a long weekend visit to Ireland, the US went to war. It was kind of freaky listening to the CNN guys describe the war live while we were floating on a ferry between two countries.
So here I go again. I should be nervous, but I'm not. Maybe it has something to do with getting on the MARC train and going back to work on September 12th. I just keep going on with life. Only this time, I hope I packed enough diapers.