I can't begin to tell you how much fun we had on our vacation to London. I think it was one of my favorite vacations ever. I can't believe I almost didn't go. All of the money we spent to super-duper expedite Bella's passport was totally worth it.
I was pretty good about writing while away, but it's mostly stream of consciousness stuff. I'm hoping to convert most of it to blog entries in the next few days. After I get over my jet lag, which so far hasn't been all that bad, and after I download all of our pictures from T's laptop. A few random thoughts:
Things I missed while on vacation:
coffee: I just can't drink it black and there was no way to take my rice milk all over the place. Plus, I saved all of my dairy cheating for fun things like wedding cake and yummy Indian food.
knitting: We really didn't have any downtime while we were away, and I had a hard time finishing up my present for my knitting exchange buddy. I did come home with a lot of new yarn, though. More on that in a later post.
Things I didn't miss while on vacation:
the news: I barely watched the news while away and only read a few headlines on the Internet when T was connected for work. I didn't even check email. Not once!
fireworks: I thought I'd be really bummed out about missing 4th of July fireworks because it's my favorite holiday, but I was having too much fun to even think about it.
Other random thoughts:
Tanuj and Claire's wedding was beautiful.
Brighton is a really fun place to visit.
Bella is walking all over the place! (Her first real step was on June 8th. Now she's walking from one piece of furniture to the other!)
The Pliko P3, Pac Back, Peanut Shell and Hotsling are totally worth every penny.
Nursing in public is way easier and much more discrete after your baby is over her "easily distracted phase" and is very convenient while traveling.
Deadheading your daylilies really does make a difference. I came home to a whole new wave of buds waiting to bloom.
A final note:
This is more for those who are thinking of having a baby or who are already pregnant. Many people may tell you that your life is about to change forever. Most will say this in an ominous tone. Some will tell you to enjoy all of your favorite "couple" things before the baby comes because you won't be able to do them anymore. Others will tell you that you won't be able to jet off for a last minute vacation like you used to do.
I am telling you that yes, your life is about to change forever, but not like they imply. Life is about to get more fun and exciting than ever before. You can do pretty much anything with a child that you want to do, and it will probably be more fun than anything you ever did as "just a couple." In an entire week there was only one thing that we couldn't do because of Bella: watch F1 in a pub in Brighton. (Pubs in Brighton are "gay and straight friendly" but "child free zones." We watched it in our hotel bar instead.) That's not bad for a week-long european vacation!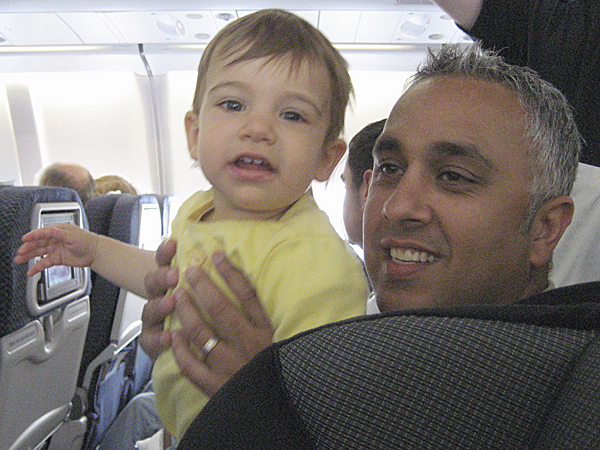 Our little traveler.