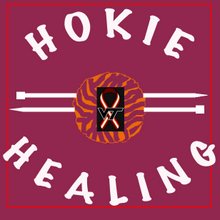 Mosaic Yarn Shop in Blacksburg, VA is collecting 8 x 8 inch squares to assemble into blankets for the families of the fallen Hokies. The squares can be knitted or crocheted in maroon, burnt orange, white or black out of the nicest, softest yarn you can afford.
I am going to coordinate a shipment of squares at the end of May for anyone locally who wants to contribute. You can drop squares off to me at the following events:
Saturday, May 19th at the Omaha Public Library from 11 am – 2 pm: I can't make this event, but Christy will be collecting squares for me.
Wednesday, May 16th and 23rd Barnes & Noble South Pointe Pavillion 7-9 pm.
If you can't make one of those events, let me know in the comments and we'll make other drop off plans. I'll be posting reminders throughout the month of May. Let's make sure the Hokie Nation knows that they are in our thoughts!