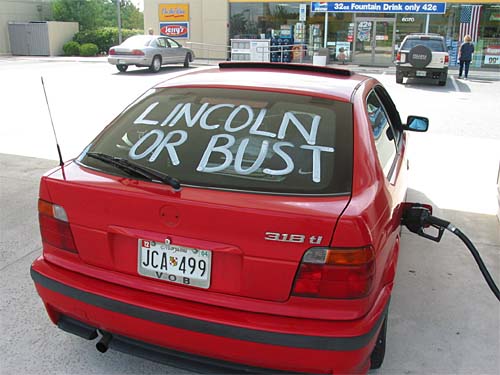 I've been looking through my old blog posts and can't believe how much our lives have changed in the past three years. Originally, this blog wasn't intended to be a blog. It was just an online space to hold pictures for the Lincoln Update—an email we sent to family and friends every once in awhile. It was a way to stay in touch with people we cared about on the east coast.
My first official "blog" post:
09.09.03
I will try to update this page on a regular basis, once I have internet access at home. I am in the office with T today, and have connected via their server. The second Lincoln Update is posted, and I will send out email notification in the next day or so with our new information. I originally wanted to document the entire move process, but that was just too overwhelming. Getting the house ready, dealing with the packers and movers, and stressing about driving with the cat was too much to handle.

This morning was kind of dreary. We found out the movers won't be here until Wednesday morning. It was raining something fierce, we have no TV or Internet access at home, and nothing to sit on except for our air mattress (thanks to the Wheatleys for that recommendation—the Coleman is awesome!) So I came into the office with T. I didn't get to see much of him, which was good because I got to type up some emails and get all of the photos uploaded for the Update.

Tonight the Masts have invited us over for dinner. It will be nice to meet Stefan, Kristen and Kurtis (T has already met them on trips out to Vancouver). It will also be nice to have a home-cooked meal and to eat sitting at a table—not in the car or on the floor!
It's amazing how this little web space has grown into a little community. I've got a fancy-pants blog program so I don't have to hand code my html anymore. Gallery software makes it easier to upload and organize photos. We have comments now so everything is more interactive. We have readers from across the pond. I'm even posting video.
I can still remember sitting at my kitchen table in Maryland coding the original pages while waiting for coats of paint to dry, setting up our Lincoln utilities, and arranging for our house to be rented once we were gone. I wonder where we'll be three years from now and if I'll remember sitting at my desk, watching Mirabella in the swing, and typing this entry.